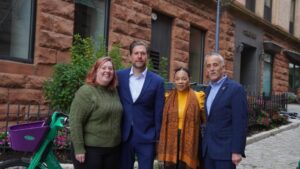 October 18, 2022
New Partnership Will Give Blake Annex Members Unlimited Access to Entire Service Network
ALBANY, NY (October 18, 2022) The Capital District Transportation Authority (CDTA) has announced that The Blake Annex has joined its Universal Access program.
"We are pleased to welcome The Blake Annex to our growing network of Universal Access partners," said CDTA CEO Carm Basile. "We look forward to our partnership that will aid nonprofit employees who do such meaningful work in our community. They will no longer have to worry about transportation issues and can focus on helping those who need it most in our community."
The Blake Annex is powered by United Way of the Greater Capital Region. Currently, there are 23 organizations at The Blake Annex with 135 members. With this Universal Access partnership, members of The Blake Annex will have unlimited ridership within CDTA's service network. Employees can use any of CDTA's transit service by swiping their CDTA Navigator card. The partnership will provide local, express, and commuter transit service throughout the Capital Region.
"The Blake Annex brings together the most passionate and talented leaders working on the most complicated and deeply entrenched challenges in our communities", said United Way of the Greater Capital Region President & CEO, Peter Gannon.  "Our work, and the work of our members, in health, education and financial stability is meaningless if we are not leading on the creation of more sustainable cities and communities across the Capital Region.  Thanks to our partners at CDTA for making this goal attainable for our team at United Way and the over 100 members of the Blake Annex community."
"Our partnership with CDTA and the Universal Access Program will be a gamechanger for our members and our member organizations," said Angelique Powell, Director of Community Animation at The Blake Annex. "Part of the fabric of The Blake Annex is to break down silos, eliminate barriers to access and foster community to generate greater impact. That makes this partnership an absolute no-brainer. This program will do infinitely more than provide free transportation to our members. This will be an added benefit to our member organizations, specifically our member organizations that are just starting out and have entrusted us with providing amazing amenities to their employees. This partnership also allows us to get even closer to the communities we serve and allowing for greater access to our space for our communities."
"Being able to take advantage of this new Universal Access agreement will be a major benefit not just when I'm commuting to and from work at The Blake Annex, but in every facet of my life," said Johonna Uber, a DOJ Accredited Representative at USCRI. "As a nonprofit professional, I'm grateful to no longer have to worry about the cost of getting around town, which will allow me to focus more energy on USCRI's mission of assisting new members of our community."
Currently, nearly 30 Capital Region colleges and businesses are part of CDTA's Universal Access program. Through the program, schools and businesses can provide convenient measures to reduce travel expenses, stressful commutes, and parking costs. These solutions further enhance the academic experience and work environment for those participating.
For more information about CDTA services, please visit https://www.cdta.org/